Explore cookbooks and more from libraries around the world.
Search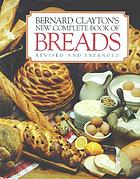 Bernard Clayton's new complete book of breads
Date: 1987 - 2007
Book
summary

"First published in 1973, Bernard Clayton's The Complete Book of Breads immediately became a modern classic; under his guidance, a generation of home bakers was introduced to the seductive pleasures of baking and produced their first loaves. But new products and equipment revolutionized the kitchen, and these changes inspired Bernard Clayton's New Complete Book of Breads, which first appeared in 1987. With an electric mixer, a food processor, or a bread machine, and with faster-acting yeasts, anyone could produce home-baked loaves in a fraction of the time bread-baking once took. The availability of a wide variety of flours and specialty products, once found only in health-food and gourmet stores, opened up a world of possibilities. Clayton revised 200 of the original recipes and added 100 more with these new ingredients and equipment in mind. Now America's best-loved bread-baking authority returns with the 30th anniversary edition of the New Complete Book of Breads, the definitive version of this baking classic. Clayton has written a new introduction, added a glossary, updated the sections on ingredients and equipment, and gone through every recipe, correcting and refining each one. The inviting new design keeps Clayton's explicit, easy-to-follow instructional format and makes the book easy to use."
Genres, Characters, Subjects & More
Editions
| Cover | Edition Details | Date | Lang. | Format | Audience | eLibs | Libs |
| --- | --- | --- | --- | --- | --- | --- | --- |