Explore fiction and movies from libraries around the world.
Search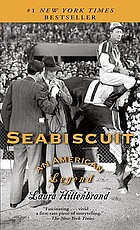 Seabiscuit : an American legend
Date: 2000 - 2015
Book
summary

Seabiscuit was one of the most electrifying and popular attractions in sports history and the single biggest newsmaker in the world in 1938, receiving more coverage than FDR, Hitler, or Mussolini. But his success was a surprise to the racing establishment, which had written off the crooked-legged racehorse with the sad tail. Author Laura Hillenbrand brilliantly re-creates a universal underdog story, one that proves life is a horse race.
Genres, Characters, Subjects & More
Editions
| Cover | Edition Details | Date | Lang. | Format | Audience | eLibs | Libs |
| --- | --- | --- | --- | --- | --- | --- | --- |