Explore fiction and movies from libraries around the world.
Search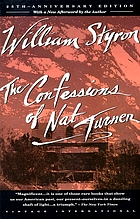 The confessions of Nat Turner
Date: 1957 - 2017
Book
summary

"The Confessions of Nat Turner is a masterpiece of storytelling, revealing in unforgettable human terms the agonizing essence of slavery. The outcome of twenty years' research, it is a novel of impaling readability, a sweeping evocation of the Deep South of the nineteenth century, and of the total experience of being a Negro in that era. It searches the depths of frustration and degradation that caused this extraordinary black man to rise up out of the early mists of American history and strike down those who had held his people in bondage"--Dust jacket.
Genres, Characters, Subjects & More
Editions
| Cover | Edition Details | Date | Lang. | Format | Audience | eLibs | Libs |
| --- | --- | --- | --- | --- | --- | --- | --- |