Explore fiction and movies from libraries around the world.
Search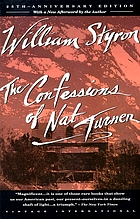 The confessions of Nat Turner
Date: 1957 - 2017
Book
summary

"In the late summer of 1831, in a remote section of southeastern Virginia, there took place the only effective, sustained revolt in the annals of American Negro slavery. The revolt was led by a remarkable Negro preacher named Nat Turner, an eductated slave who feldt himself divinely ordained to annihilate all the white people in the region" --dust jacket.
Genres, Characters, Subjects & More
Editions
| Cover | Edition Details | Date | Lang. | Format | Audience | eLibs | Libs |
| --- | --- | --- | --- | --- | --- | --- | --- |