Explore fiction and movies from libraries around the world.
Advanced Search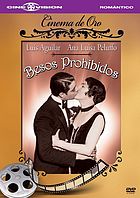 Besos prohibidos
Date: 1956
Video

Age group: Not Rated.
summary

In this classic love triangle, a tormented cabaret singer must choose between her love for her incarcerated husband and the attentions of a charming and well-to-do doctor. Featuring the incomparable talents of top Mexican cinema stars, the award-winning and captivating Ana Luisa Peluffo and the dashing Luis Aguilar, Besos Prohibidos delivers dramatic twists right up until the story's final triumphant scene.
Genres, Characters, Subjects & More
Editions
| Cover | Edition Details | Date | Lang. | Format | Audience | eLibs | Libs |
| --- | --- | --- | --- | --- | --- | --- | --- |